Sarah Cooper is a curator, writer, and art historian based in Los Angeles.
She is the Public Programs Specialist for performance at the J. Paul Getty Museum, where she directs the experimental performance series
Ever Present
, among other programs.
She has organized programs featuring artists and musicians including Kim Gordon, Simone Forti, Brendan Fernandes, Patti Smith, Lonnie Holley, Martin Creed, Midori Takada, Helado Negro, Moor Mother, David Wojnarowicz, Derek Jarman, and Solange Knowles.
In addition, Sarah has held positions at The Museum of Modern Art and the Guggenheim Museum in New York, the Royal Academy in London, and the Andy Warhol Museum in Pittsburgh.
She holds a Master's Degree in Art History from Hunter College, New York. Her thesis,
Expanding Experimentalism: Popular Music and Art at the Kitchen in New York City, 1971-1985
, explores the creative output of artists' bands and the relationship between popular music and avant-garde performance practices.
sarahannecooper [at] gmail.com
BODY/HEAD (Kim Gordon & Bill Nace)
January 31, 2015
Getty Museum, Los Angeles



Body/Head is an electric guitar duo comprised of musician, artist, and boundless creative force Kim Gordon, best known as a member of the legendary alternative rock band Sonic Youth, and improvisational noise guitarist Bill Nace. Since Sonic Youth called it quits in 2012, each of its members have embarked on their own musical and artistic projects that have exposed and distilled the specific qualities they brought to the group. Body/Head is evidence that Gordon brought an undeniable edge and avant-garde sophistication that supplied the weird magic at the band's core. The epic and abstract sonic waves in Body/Head's sound accentuate a volatile energy that is at once indecipherable yet powerfully emotional. Often performed with time-bending video, Body/Head's unique form of dreamy improvisational performance reflects Gordon and Nace's gravitation toward an array of artistic material, from Syd Barrett-era Pink Floyd and experimental folk musician Catherine Ribeiro, to the films of French feminist filmmaker Catherine Breillat.



Experimental Music Built on Provocative Films
Equipped only with two guitars, Kim Gordon and Bill Nace of Body/Head lead their audiences into a mesmerizing filmic world
SARAH COOPER
| JANUARY 15, 2015 | 4 MIN READ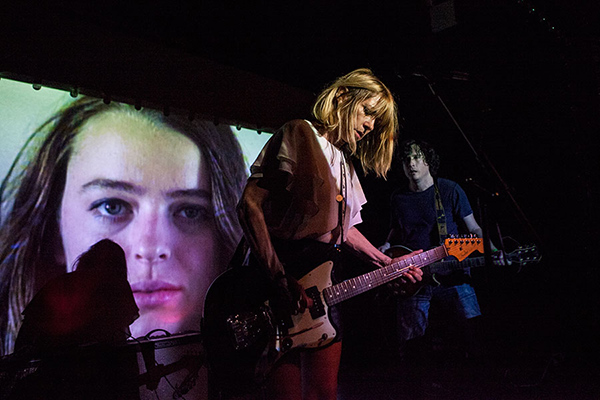 Body/Head. Photo: Adela Loconte


When Kim Gordon—musician, artist, and boundless creative force, best known as a member of the legendary alternative rock band Sonic Youth—first met Bill Nace, he was working at an art house cinema in the town where they both live. Nace was already an established experimental and free-noise guitarist, but perhaps it was his association with the movies that set the stage for Body/Head, the band they would form together, to generate a fascinating relationship to cinema on a variety of levels.

Body/Head has an extremely simple formula: two guitars and vocals playing largely free-form, improvised music, but the resulting sound is startlingly complex and emotionally nuanced, and their performances can be a transformative experience. Gordon and Nace have said the band grew out of several basement jam sessions where they would play music and discuss their favorite musicians, books, or YouTube videos. Body/Head reflects their shared gravitation to a wide array of artistic material, including, importantly, several films that explore psychological and sexual drama.

Desires of Body and Mind

Body/Head frequently references the cinematic output of controversial French filmmaker Catherine Breillat, whose films inspired song titles and lyrics in the band's 2013 double album Coming Apart. Breillat largely led the way for a generation of contemporary French auteurs who have tackled provocative and sexually explicit themes. Her unflinching films foreground the psychological issues that surround female sexuality, the emotional impact of the loss of virginity, rape, and sociologically ingrained ideas about body image. In 1999's Romance, Breillat challenges normative romantic narratives as her heroine trades the comfort of a "traditional" relationship for a series of increasingly violent sexual encounters. Breillat's films explore gendered power dynamics and women's roles in society, and Body/Head's songs follow suit, focusing on tropes of female identity from the "actress" to the "mistress" and the "murderess."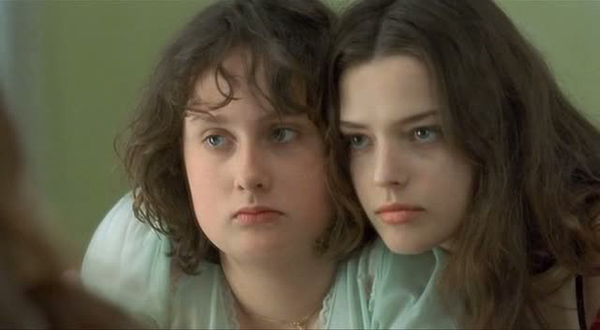 Still from

Fat Girl (À Ma Soeur!)

. Photo courtesy of Code Red Films


The name Body/Head itself was inspired by Breillat's work, particularly the 2001 film Fat Girl (À Ma Soeur!). In the film, two adolescent sisters, one thin and therefore more typically "beautiful," the other chubby, struggle with the harsh awakening of their burgeoning sexual identities in what Breillat calls a story about "a soul with two bodies."

Subjected to powerfully confrontational scenes about seduction and rape, the younger sister refuses to be called a victim even after she is violently attacked, drawing a line between her body and her mind. This distinction between the corporeal and the psychological appears throughout the Body/Head project, and beyond inspiring a name, it serves as a guiding, albeit ambiguous, concept that engages a wide range of themes that inform the band's output. The roles of "body" and "head" oscillate between Gordon and Nace, a male-female duo, as well as between the musical and the cinematic, or the artists and their audience.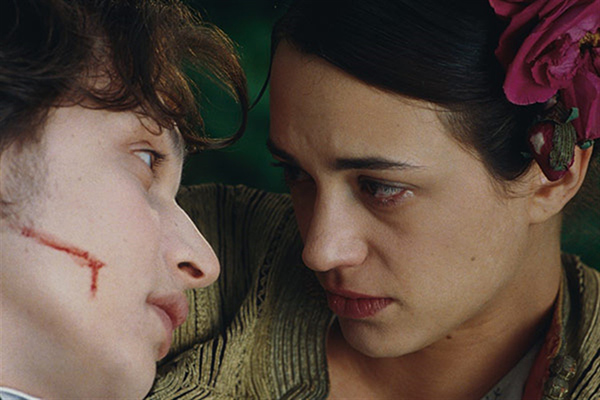 Still from

The Last Mistress (Une Vieille Maîtresse)

. Photo courtesy of IFC Films


Breillat's films take the socially mitigated expectations of gender roles and pit them against the uncontrollable impulses of sexuality, particularly those of women. Vellini, the passionate heroine of Breillat's 2007 film The Last Mistress (Une Vieille Maîtresse), exudes this destabilizing energy, and Body/Head titles a song after the film, which is set in 19th-century France. Vellini, played by actress Asia Argento, is a Spanish courtesan who carries on an extended affair with Ryno, a fortuneless libertine aristocrat engaged to an innocent but wealthy young woman. Vellini places no confines on the expression of her sexuality, defying traditional female roles, never a wife nor a prostitute, and it is Ryno who must negotiate between the desires of his body and his mind.

The album title Coming Apart stems from another cinematic work, Milton Moses Ginsberg's 1969 film of the same name. Like Body/Head's own self-imposed structure, the film has a highly restricted formula consisting of footage captured from a single immobile camera operated covertly by a disturbed psychoanalyst played by Rip Torn. Like the internal and external worlds of the body and mind, the film exploits assumptions about public and private spaces, implicating the audience as voyeurs during the doctor's disturbing therapy sessions, witnesses to his fantasies and descent into madness.

Confrontations of Cinema and Life

Body/Head takes the cinematic association a step further, making the projected moving image an integral part of their live performance. Gordon and Nace stand in front of the screen, often with the image projected directly on their bodies, integrating their performance into the filmic world itself. Initially, they used scenes taken from Breillat's films projected in slow motion, but later the band commissioned a new series of films specifically for their performances. The director, another erotic provocateur, Richard Kern, was originally part of a New York underground film movement dubbed the Cinema of Transgression. Kern has made a career of treading the line between art photography and pornography, and like Breillat, he doesn't shy away from exploring the darker side of human sexuality, challenging notions of what constitutes an erotic image.

Kern's videos focus on individual suspended moments: a girl splatters paint on a canvas on the floor or twists face down in a bed, and a man snaps a photograph in extreme close-up.

Each video is no more than a few seconds long, but slowed down and looped in a time-bending freeze, altering reality in a way only cinema can. For "Last Mistress," he channels Michelangelo Antonioni's 1966 mod masterpiece, Blow-Up, a film that takes an existential look at reality as mediated by photography. Kern quotes the iconic moment when the central character, a swinging London fashion photographer, fully straddles his model in a shoot, accelerating into an orgasmic level of excitement, implicating the role of sex and objectification in fashion and the media.





These short looping video moments reinforce the artificiality of cinema when juxtaposed with Gordon and Nace's live performance. Film requires an extensive investment of time, preparation, editing, and manipulation to achieve a final product, while the musical performance it is paired with is entirely spontaneous. Improvised music is produced without forethought, by relinquishing the mind's control over the body. At the same time, it meanders like the rhythm of thought, unwinding like elongated brainwaves, providing a psychological soundtrack for the characters on screen.

Body/Head takes the calcified time of film and juxtaposes it with immediacy and impulsiveness of action that can never be fully controlled or repeated. In absorbing the volatile energy in the films of Breillat and others, and the performance's relationship to film itself, Body/Head builds an experience that manages to be enigmatic and abstract, but land with exceptional intellectual and emotional resonance.