Sarah Cooper is a curator, writer, and art historian based in Los Angeles.
She is the Public Programs Specialist for performance at the J. Paul Getty Museum, where she directs the experimental performance series
Ever Present
, among other programs.
She has organized programs featuring artists and musicians including Kim Gordon, Simone Forti, Brendan Fernandes, Patti Smith, Lonnie Holley, Martin Creed, Midori Takada, Helado Negro, Moor Mother, David Wojnarowicz, Derek Jarman, and Solange Knowles.
In addition, Sarah has held positions at The Museum of Modern Art and the Guggenheim Museum in New York, the Royal Academy in London, and the Andy Warhol Museum in Pittsburgh.
She holds a Master's Degree in Art History from Hunter College, New York. Her thesis,
Expanding Experimentalism: Popular Music and Art at the Kitchen in New York City, 1971-1985
, explores the creative output of artists' bands and the relationship between popular music and avant-garde performance practices.
sarahannecooper [at] gmail.com
The Legend of Leigh Bowery (2002)
Teach (1992-98)
Introduction by Charles Atlas in person
Part of London Calling: Film Series
September 23, 2016
Getty Museum, Los Angeles



As you walk through the London Calling exhibition, the last two paintings you encounter, by Lucian Freud, show a strikingly large male figure. One is framed tightly around his broad, cumbrous head, resting on his shoulder peacefully asleep, showing oddly pronounced dimple-like marks on each cheek. The other is a monumental full-length nude, where this raw and commanding figure towers over the viewer. The man depicted in these unforgettable paintings is Leigh Bowery, an Australian performance artist, avant-garde fashion designer, and icon of the 1980s London club scene, known for outrageous, one-of-a-kind costumes. Freud was fascinated by Bowery both physically and intellectually, and painted him repeatedly across a four year period, until Bowery's untimely death from AIDS. Inspired both by his "wonderfully buoyant bulk" as well as "the quality of his mind," the painter's signature style revealed Bowery in a dramatically opposite fashion than his infamous costumed and masked public personas, deftly exposing the depths of his complexities.

While Freud's paintings are widely exhibited, Leigh Bowery and his compellingly radical work and life remain largely unknown. Discover the story behind this intriguing man in a special presentation of the honest and touching documentary The Legend of Leigh Bowery, directed by renowned video artist Charles Atlas. This film delves into the evolution of Bowery as a designer whose creations were so singular and powerful that they couldn't be contained by the club, the theater, or the gallery, to becoming a performer himself, fully realizing the characters within the costumes. It traces Bowery's influence on, not only Lucian Freud, but a generation of artists across disciplines, notably the Michael Clark Dance Company, Boy George, Alexander McQueen, and David Bowie. Bowery's designs and performances played with extremes, mining the complexities around modern identity and the tension between pleasure and pain, but never without humor — it was not quite drag, but a radical re-envisioning of fashion as a site for self-expression and experimentation.

Joining us in person to introduce the film is director Charles Altas, who was a regular collaborator with Leigh Bowery and made several video artworks featuring him in his various visages. A pioneering figure in film and video for over four decades, Atlas is known forboundary-pushing techniques, including the fostering of compellingly close and collaborative relationships with his subjects, such as artists and performers like Bowery and Michael Clark, as well as Douglas Dunn, Marina Abramovic, Yvonne Rainer, Mika Tajima/New Humans, Antony and the Johnsons, and most notably Merce Cunningham, for whom he served as in-house videographer for a decade from the early 1970s through 1983; their close working relationship continued until Cunningham's death in 2009.

Along with The Legend of Leigh Bowery, Atlas will present his short film Teach, a performance created for the camera, where Bowery, adorned with his signature exaggerated make-up and a fake plastic smile pinned to his face, lip-syncs to Aretha Franklin's "Take a Look," confronting the audience with moments unsettling, sardonic, enthralling, and endearing.

With these two films, delve in to the story behind the man in Freud's paintings and celebrate the complex and powerful world of Leigh Bowery, one of London society's true originals, whose creativity produced a thriving subculture, and whose unique presence captivated some of the greatest artistic minds of the 20th century.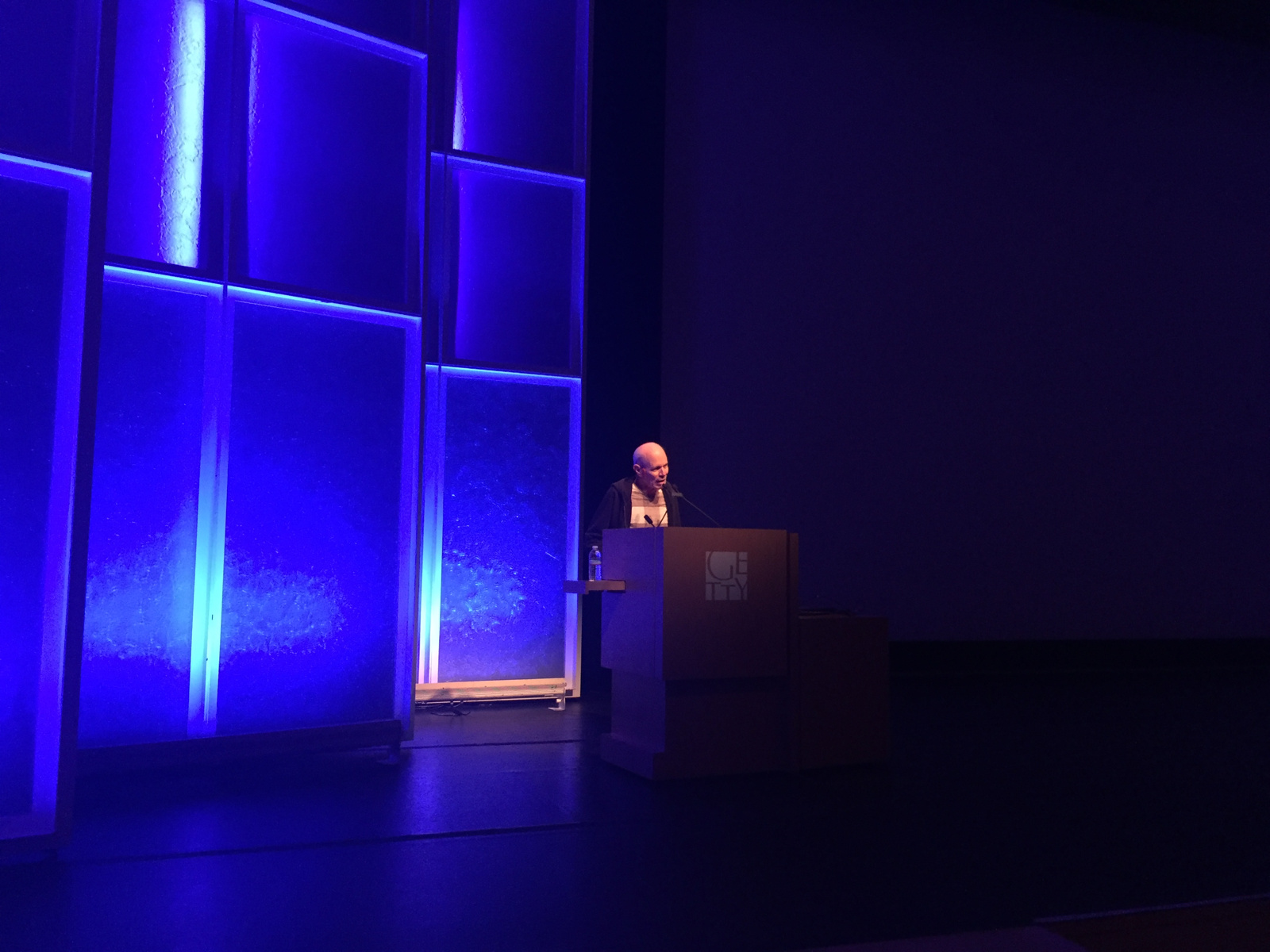 Still from Charles Atlas, Teach.