Sarah Cooper is a curator, writer, and art historian based in Los Angeles.
She is the Public Programs Specialist for performance at the J. Paul Getty Museum, where she directs the experimental performance series
Ever Present
, among other programs.
She has organized programs featuring artists and musicians including Kim Gordon, Simone Forti, Brendan Fernandes, Patti Smith, Lonnie Holley, Martin Creed, Midori Takada, Helado Negro, Moor Mother, David Wojnarowicz, Derek Jarman, and Solange Knowles.
In addition, Sarah has held positions at The Museum of Modern Art and the Guggenheim Museum in New York, the Royal Academy in London, and the Andy Warhol Museum in Pittsburgh.
She holds a Master's Degree in Art History from Hunter College, New York. Her thesis,
Expanding Experimentalism: Popular Music and Art at the Kitchen in New York City, 1971-1985
, explores the creative output of artists' bands and the relationship between popular music and avant-garde performance practices.
sarahannecooper [at] gmail.com
See What You Mean: An Evening of Insurrections with Harry Gamboa Jr.
October 28, 2017
Getty Artists Project
Getty Museum, Los Angeles
Organized with Daniela Alvarez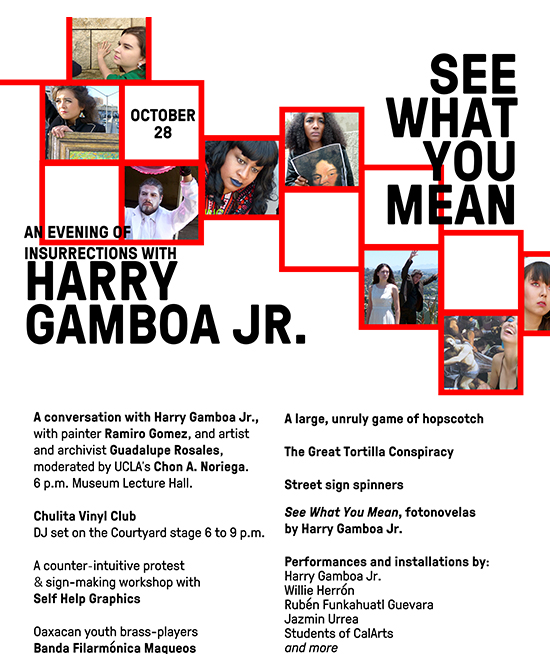 A large, unruly game of hopscotch, inspired by Harry Gamboa Jr and Julio Cortazar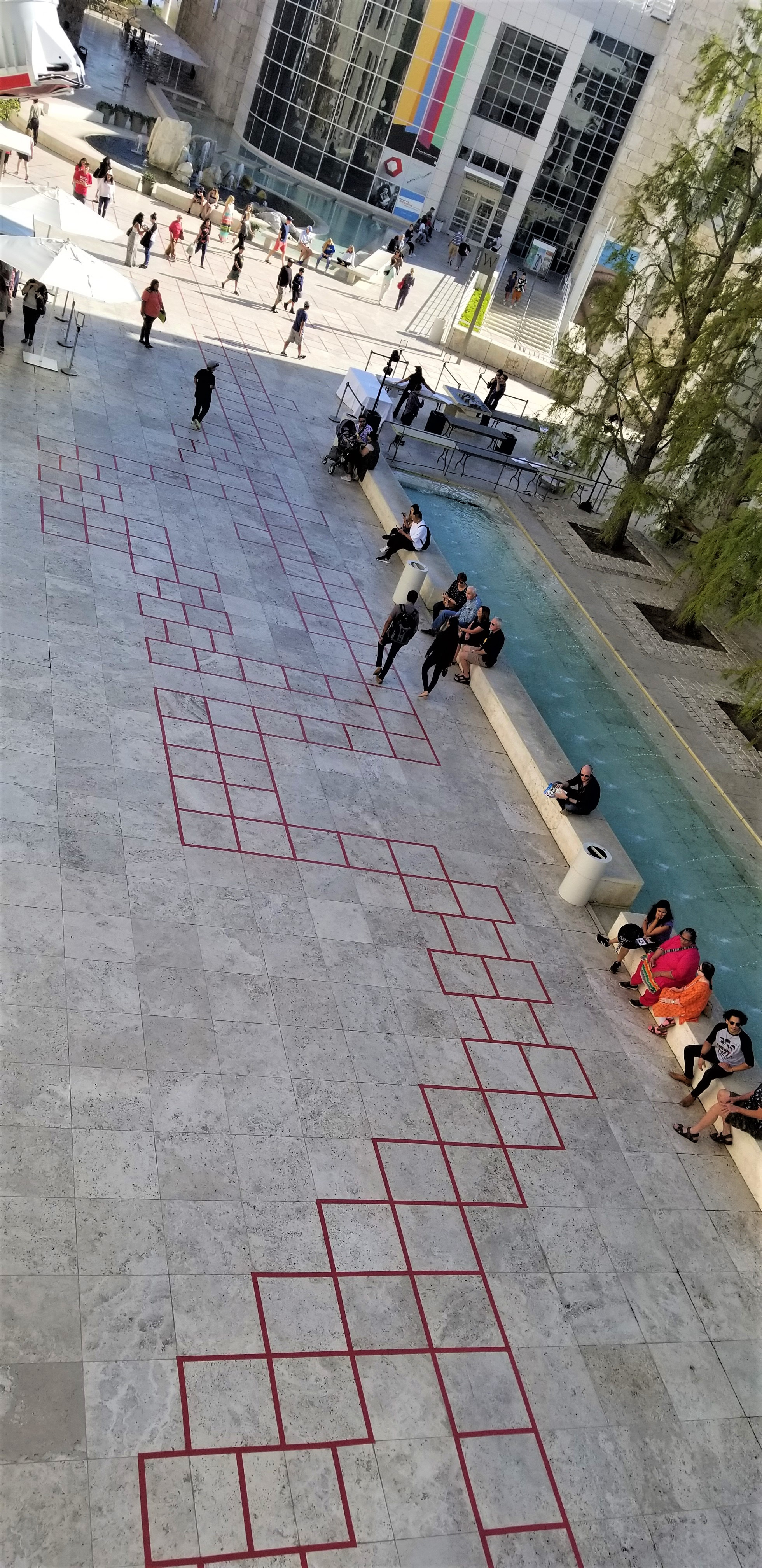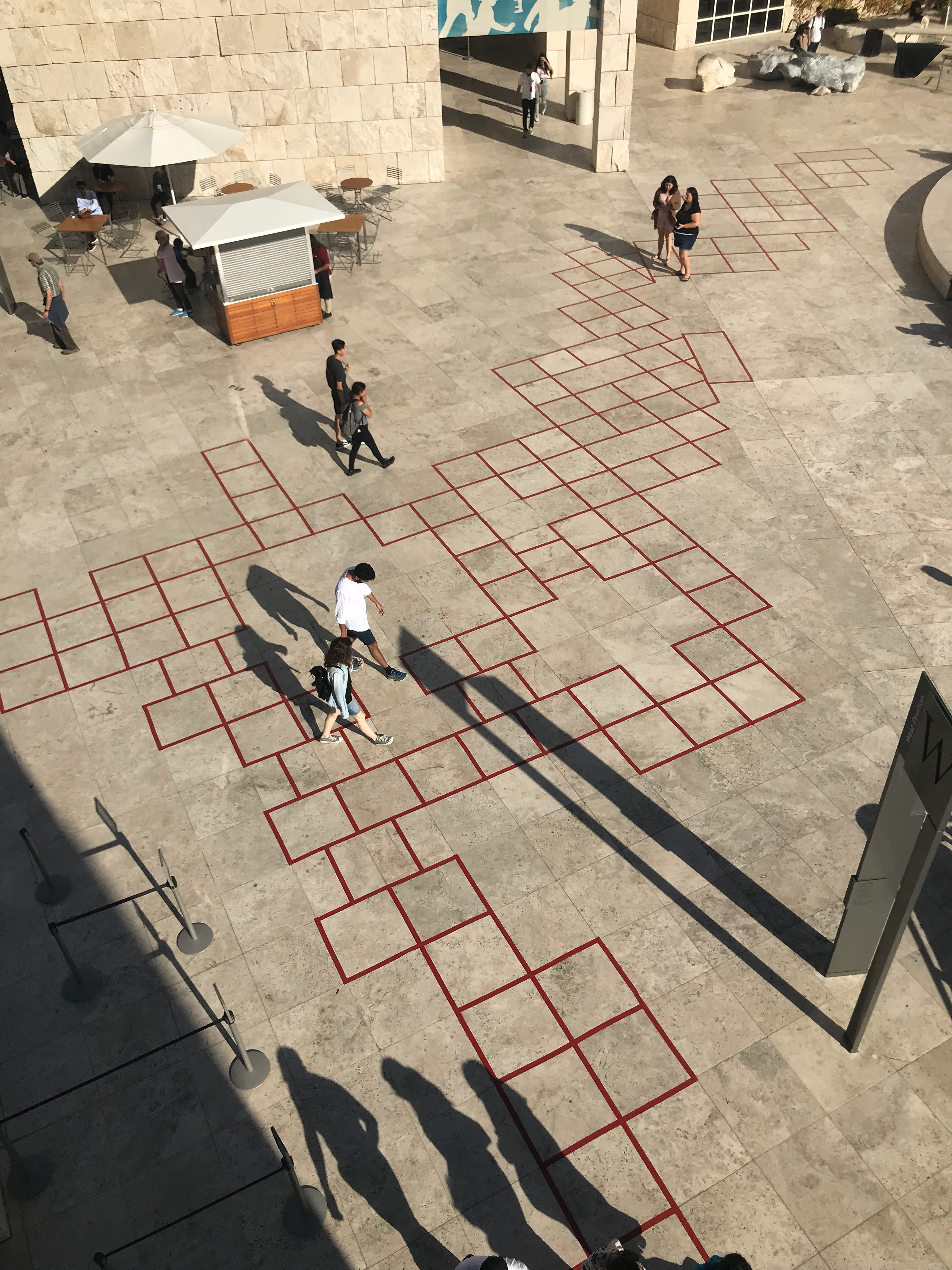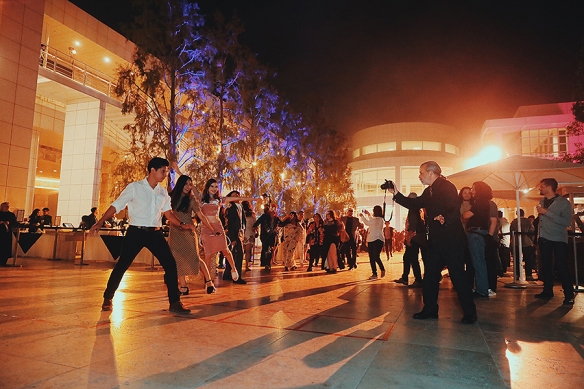 Installation of Flamin' Hot Cheeots by Jazmin Urrea in the Museum Entrance Hall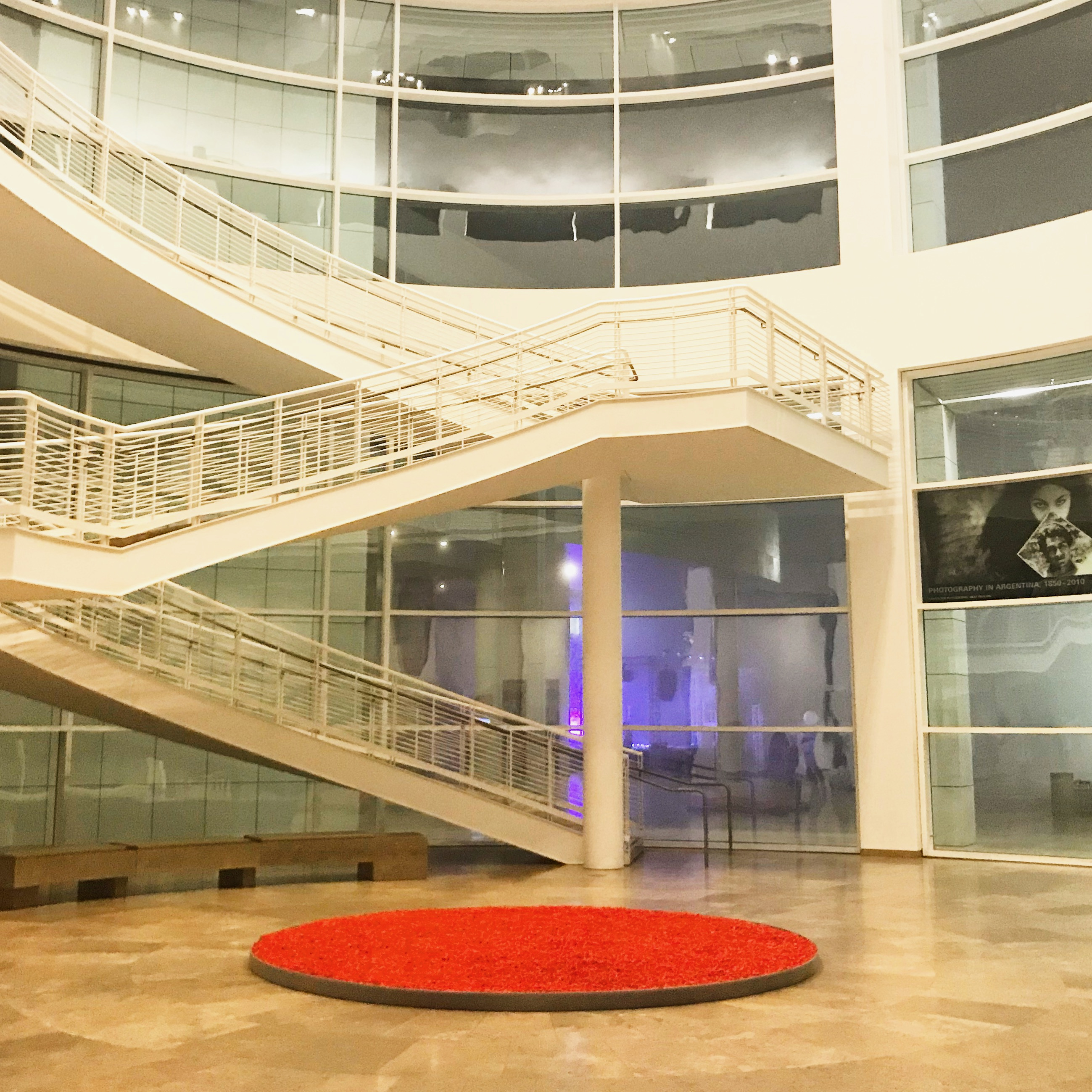 Sign spinners with the poetry of Harry Gamboa Jr.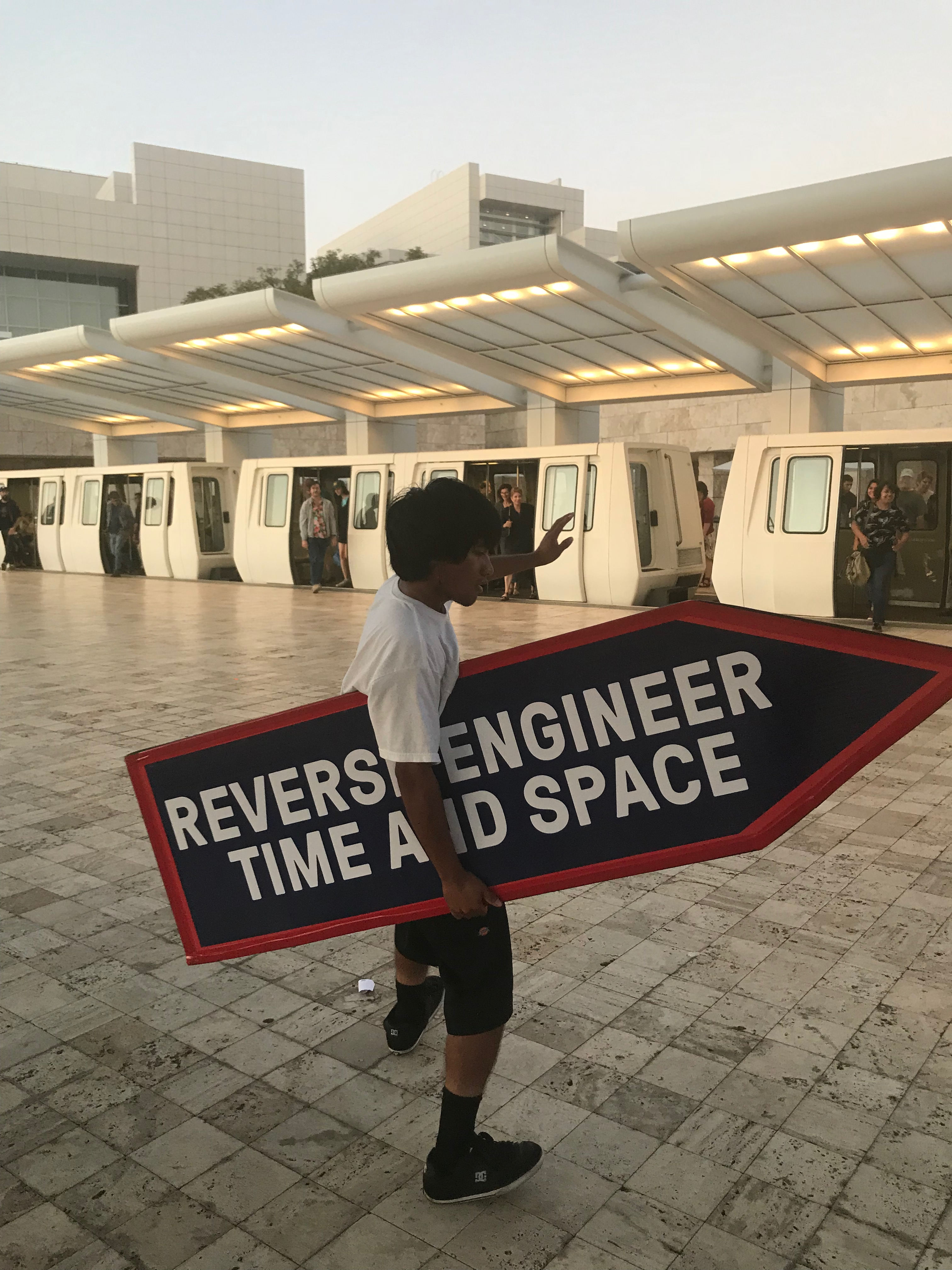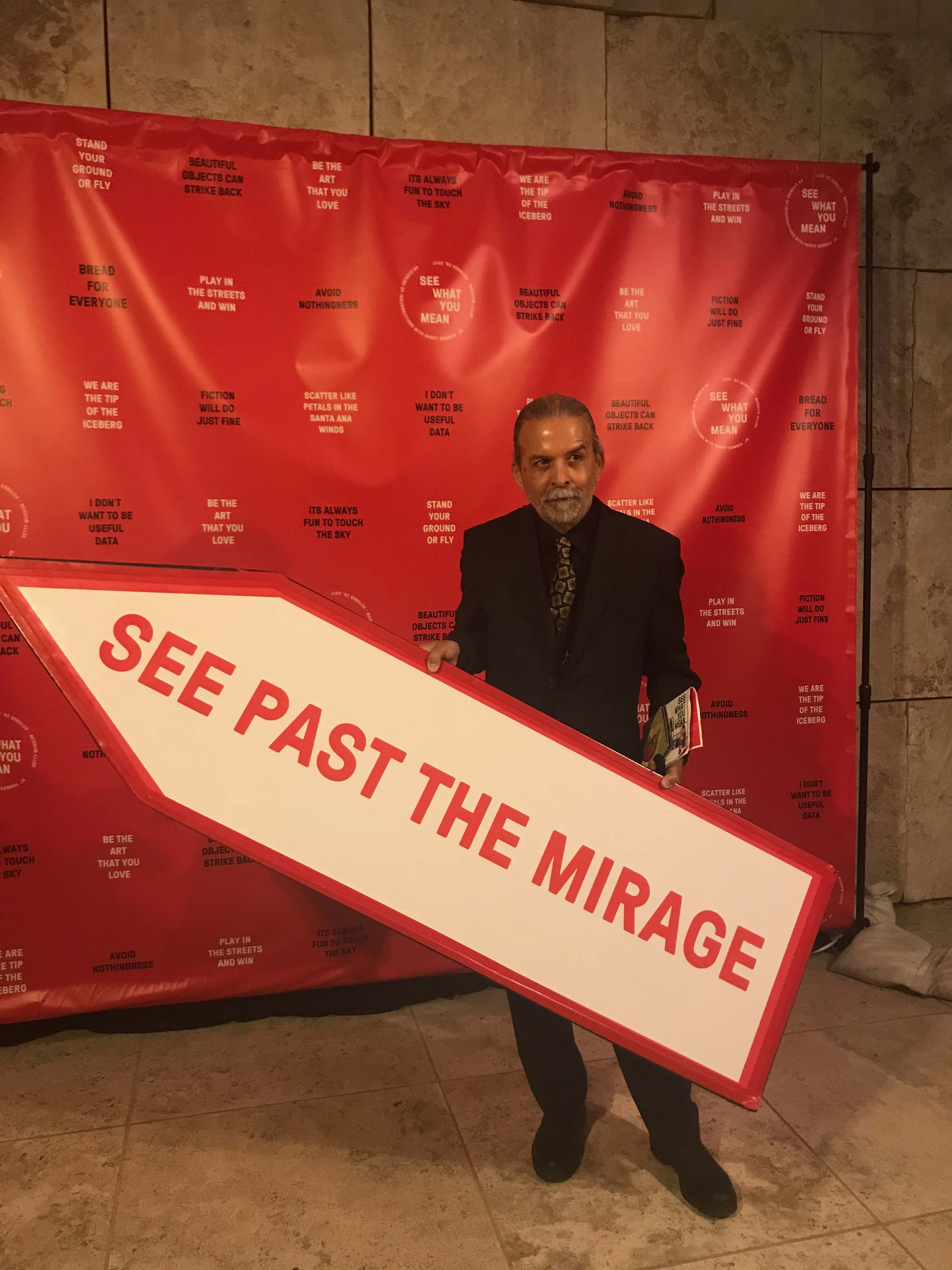 LA-based Oaxacan youth brass-players Banda Filarmónica Maqueos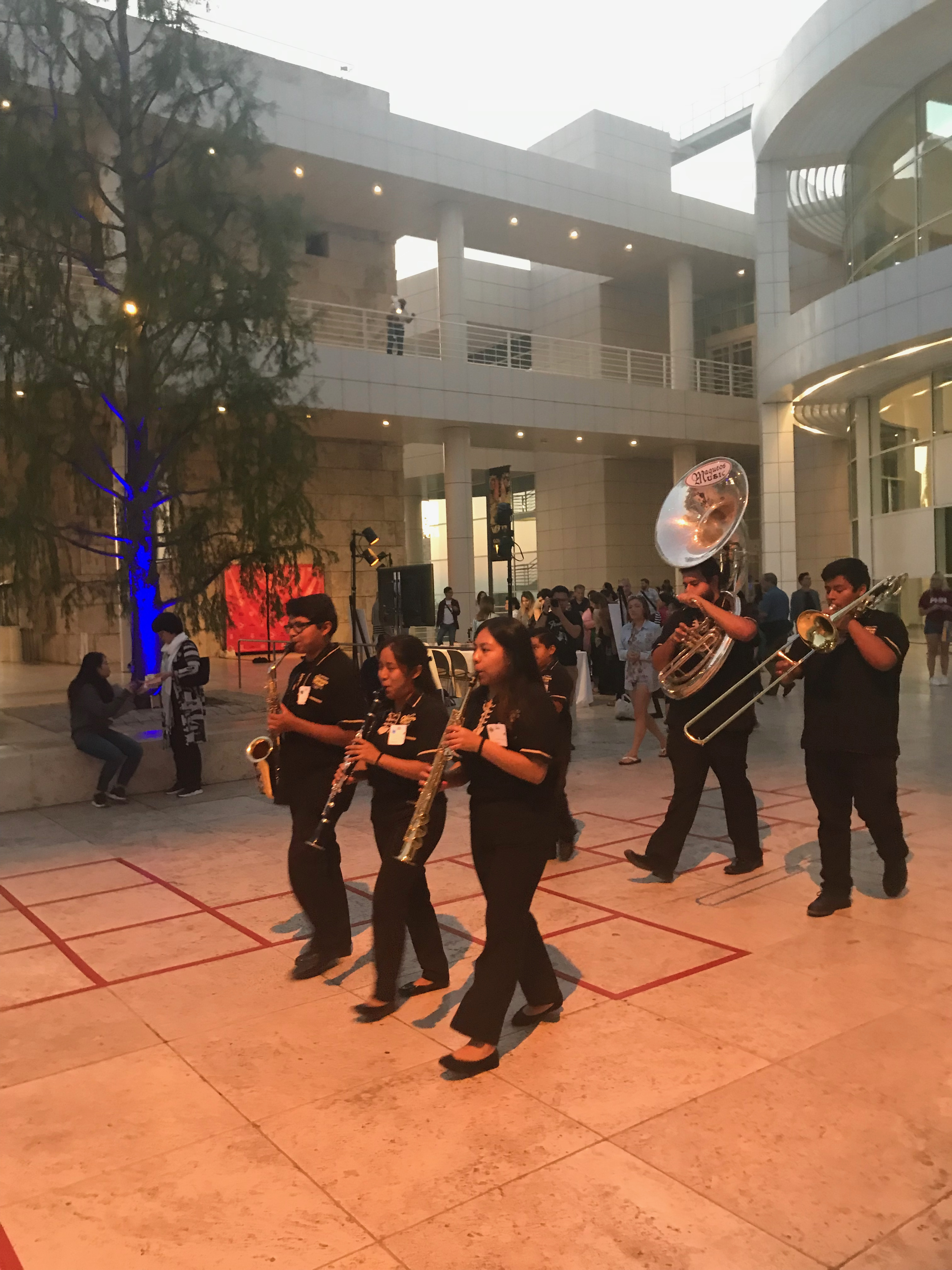 Signs for a "Counter-Intuitive Protest" with Self-Help Graphics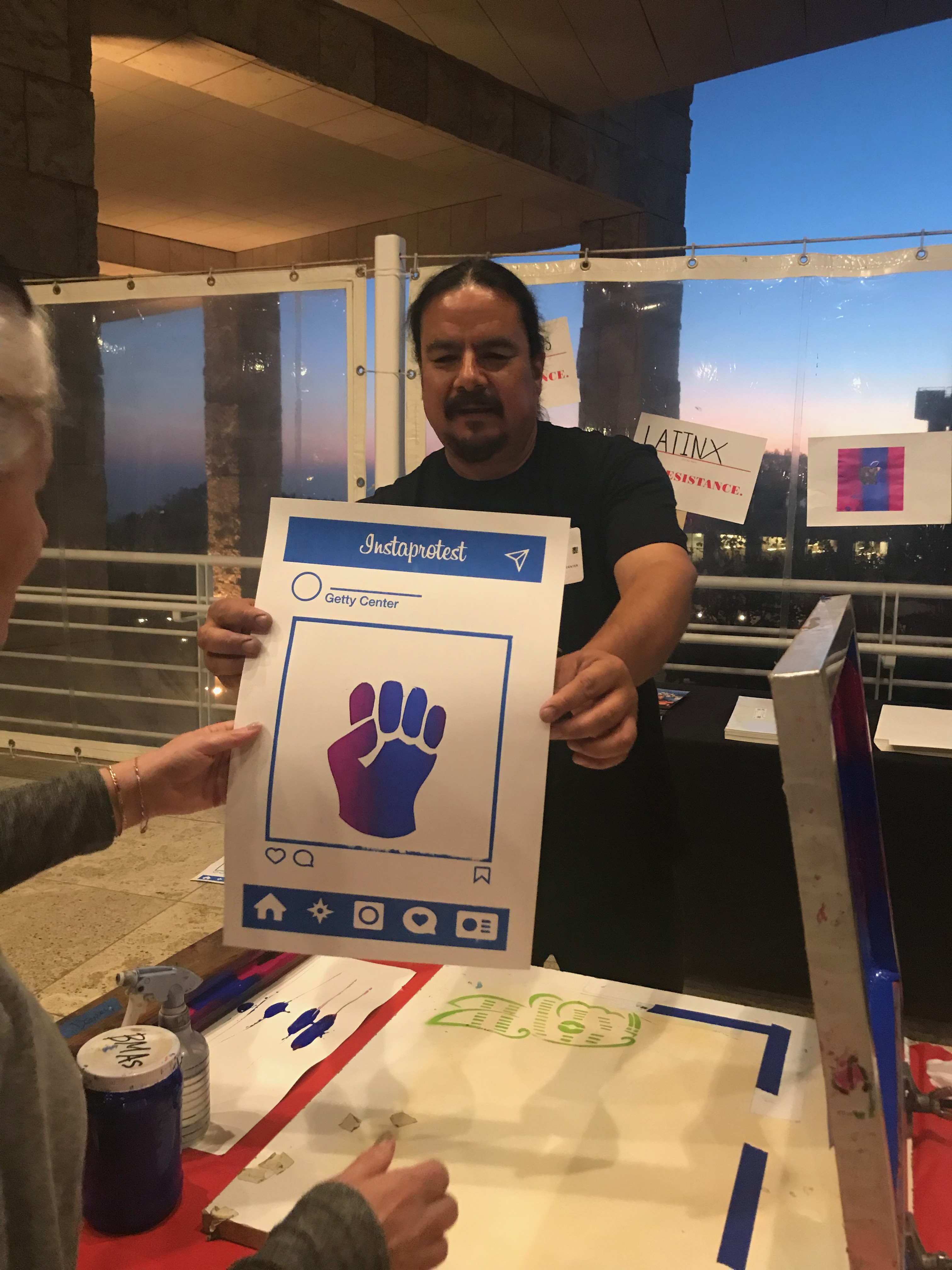 Chulita Vinyl Club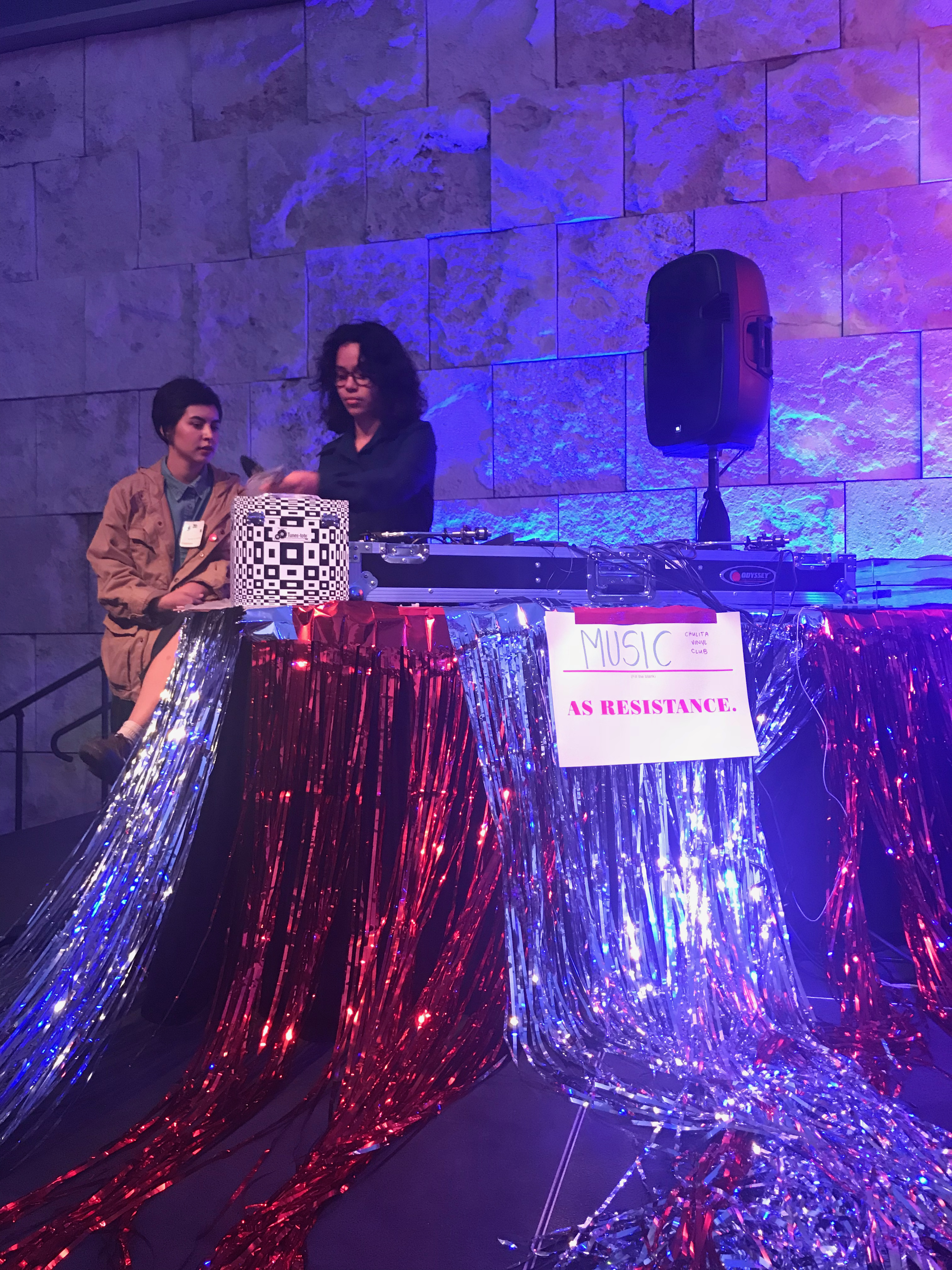 Discussion between Harry Gamboa Jr. and artists Guadalupe Rosales and Ramiro Gomez, moderated by Chon D. Noriega, director of UCLA's Chicano Studies Research Center.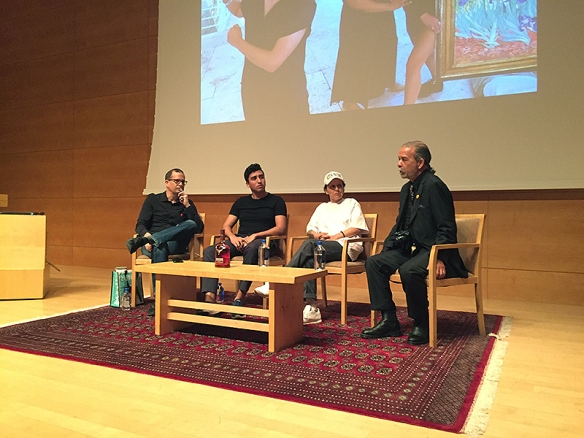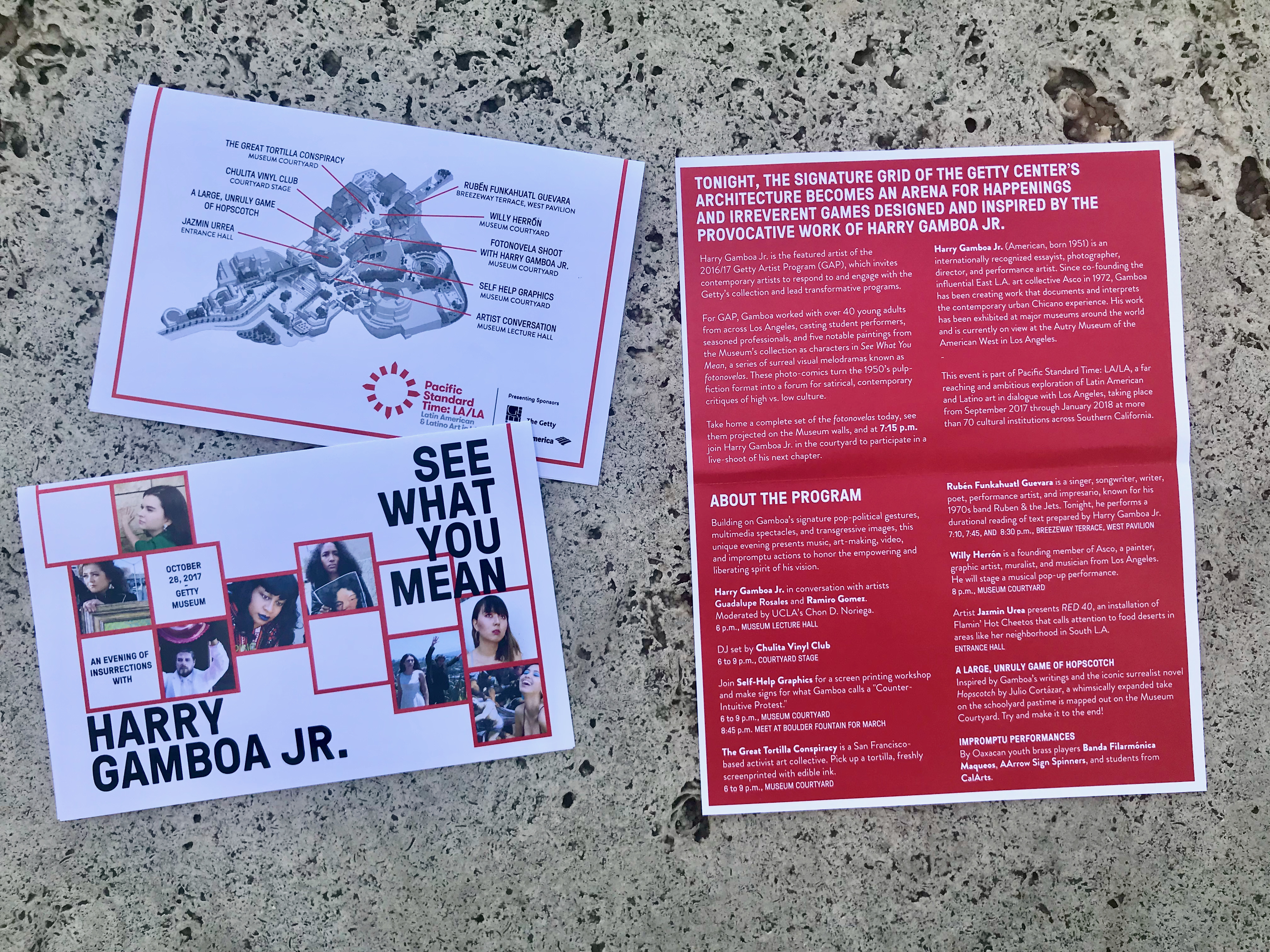 Join us for See What You Mean: An Evening of Insurrections with Harry Gamboa Jr., where the signature square-tiled grid of the Getty Center's architecture becomes an arena for performative happenings and irreverent games designed and inspired by the provocative work of this influential Los Angeles artist.

Building on Gamboa's pop-political gestures, multimedia spectacles, and transgressive images that interpret the contemporary urban Chicano experience, this unique evening presents music, art-making, video, and impromptu antics to honor the empowering and liberating spirit of his vision. This event will also debut a new series of Gamboa's fotonovelas—a medium which turns the 1950's pulp-fiction photo-comic format into a forum for satirical, contemporary critiques of high vs. low culture—created as part of the Getty Artist Program. Visitors can participate in a large-scale fotonovela directed by Gamboa, posing in live-streamed tableaux.

Chulita Vinyl Club, the all-female, all-vinyl DJ collective for self-identifying women of color, takes over the Courtyard Stage while Boyle Heights' community art center Self-Help Graphics leads a screen printing workshop to make creative signs for what Gamboa calls a "Counter-Intuitive Protest." Acrobatic sign-spinners transform street-corner advertisements into a different kind of messaging, as poetic wordplay infiltrates a variety of surfaces—from the floors and walls to wearable giveaways. At the center of these unfolding elements is a whimsically large and unruly game of hopscotch played out on the signature grid surface of the Getty Center. Referencing both Harry Gamboa Jr.'s writings and the iconic surrealist Latin American novel Hopscotch by Julio Cortazar, this theatrically expanded take on a schoolyard pastime is one of several insurrections aiming to upend the status quo and build an experience that, like Gamboa's work, defies easy categorization.

The Great Tortilla Conspiracy, Gamboa's long-time collaborators Willie Herrón and Rubén Funkahuatl Guevara, artist and Gamboa-mentee Jazmin Urrea, the LA-based Oaxacan youth brass-players Banda Filarmónica Maqueos, and more will be on hand for pop-up performances and installations.

Preceding these activities is a discussion with artists who focus on the textures of Latin American identity and experience in Southern California. Joining Gamboa onstage is Guadalupe Rosales, the artist and social archivist behind the popular Veteranas and Rucas Instagram account, which collects family and found photographs of women and disappearing subcultures in Southern California, and painter Ramiro Gomez, whose work documents the contributions of laborers and caregivers so often erased from the polished images of luxury homes, curated landscapes, and glossy advertisements. The discussion is moderated by Chon D. Noriega, director of UCLA's Chicano Studies Research Center.


About Harry Gamboa Jr.

Harry Gamboa Jr. (American, born 1951) is a Chicano essayist, photographer, educator, director and performance artist living in Los Angeles. Gamboa's work has been exhibited nationally and internationally at several museums including the Whitney Museum of American Art, New York; the Los Angeles County Museum of Art (LACMA); Tate Liverpool, England; Museo del Palacio de Bellas Artes, Mexico City; and the Museum of Modern Art, New York. He co-founded the East L.A. conceptual-performance art group Asco and founded Virtual Vérité, an ensemble performance troupe. He has taught at various universities and art institutions including University of California, Los Angeles; University of California, San Diego; Otis College of Art and Design; Parsons School of Design, New York, and is currently a professor at California State University, Northridge and the California Institute of the Arts (CalArts).