Sarah Cooper is a curator, writer, and art historian based in Los Angeles.
She is the Public Programs Specialist for performance at the J. Paul Getty Museum, where she directs the experimental performance series
Ever Present
, among other programs.
She has organized programs featuring artists and musicians including Kim Gordon, Simone Forti, Brendan Fernandes, Patti Smith, Lonnie Holley, Martin Creed, Midori Takada, Helado Negro, Moor Mother, David Wojnarowicz, Derek Jarman, and Solange Knowles.
In addition, Sarah has held positions at The Museum of Modern Art and the Guggenheim Museum in New York, the Royal Academy in London, and the Andy Warhol Museum in Pittsburgh.
She holds a Master's Degree in Art History from Hunter College, New York. Her thesis,
Expanding Experimentalism: Popular Music and Art at the Kitchen in New York City, 1971-1985
, explores the creative output of artists' bands and the relationship between popular music and avant-garde performance practices.
sarahannecooper [at] gmail.com
Institute For New Feeling
Other Sky
July 14, 2017
Friday Flights
Getty Museum, Los Angeles



Still from the Other Sky broadcast.

50 people wander through the Getty Center at dusk, closely watching the same news network on their phones and laptops. A constructed forecast describes an unprecedented severe weather event predicted to hit Los Angeles that evening.

This subtle intervention and expanded video screening weaves a dark, fragmented narrative, while playing with the conventions of screen voyeurism in public space. Only in times of crisis do we see synced content naturally proliferate like this; in tragedy, fear and confusion, we turn to our devices.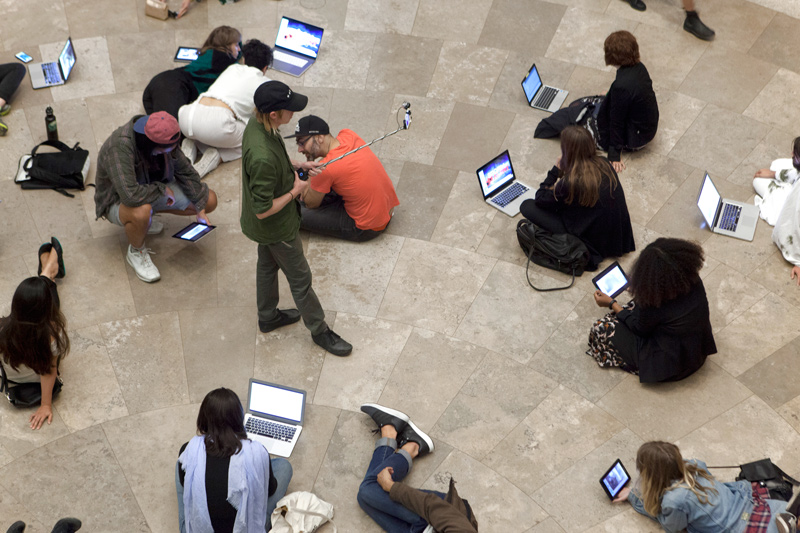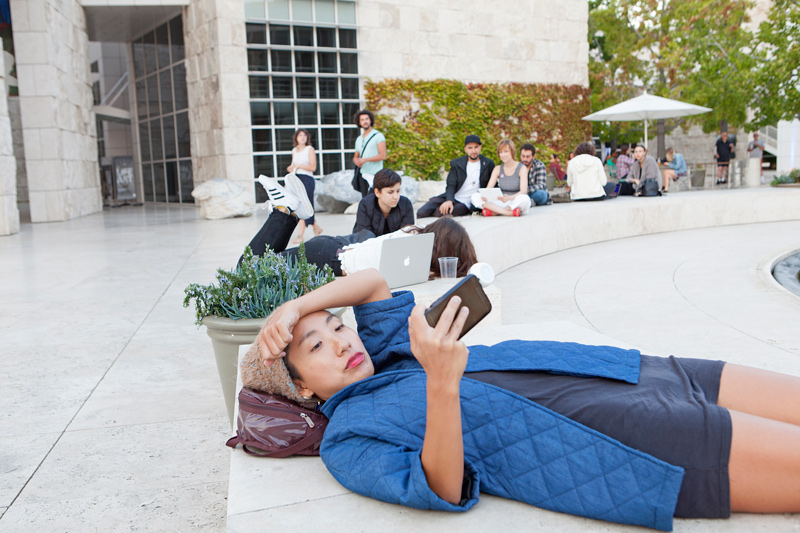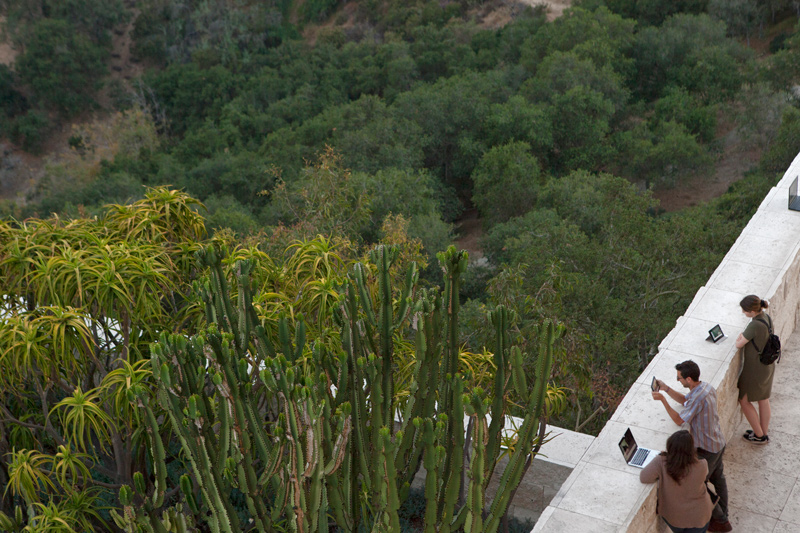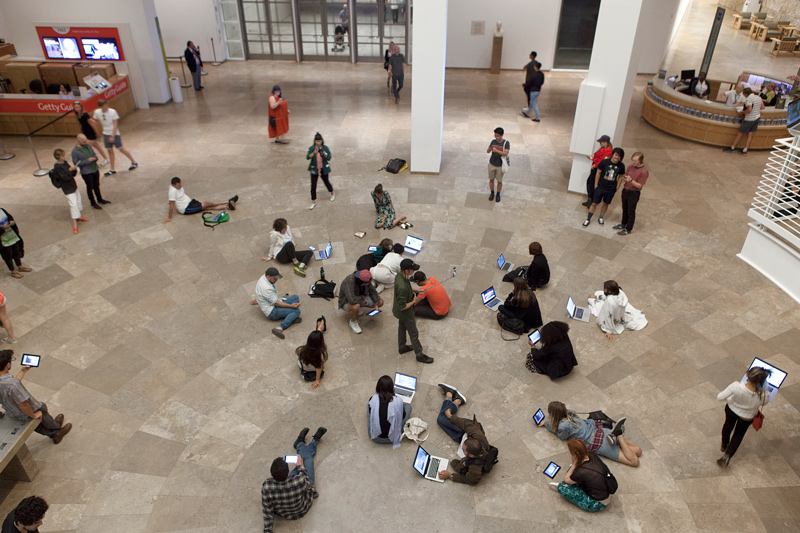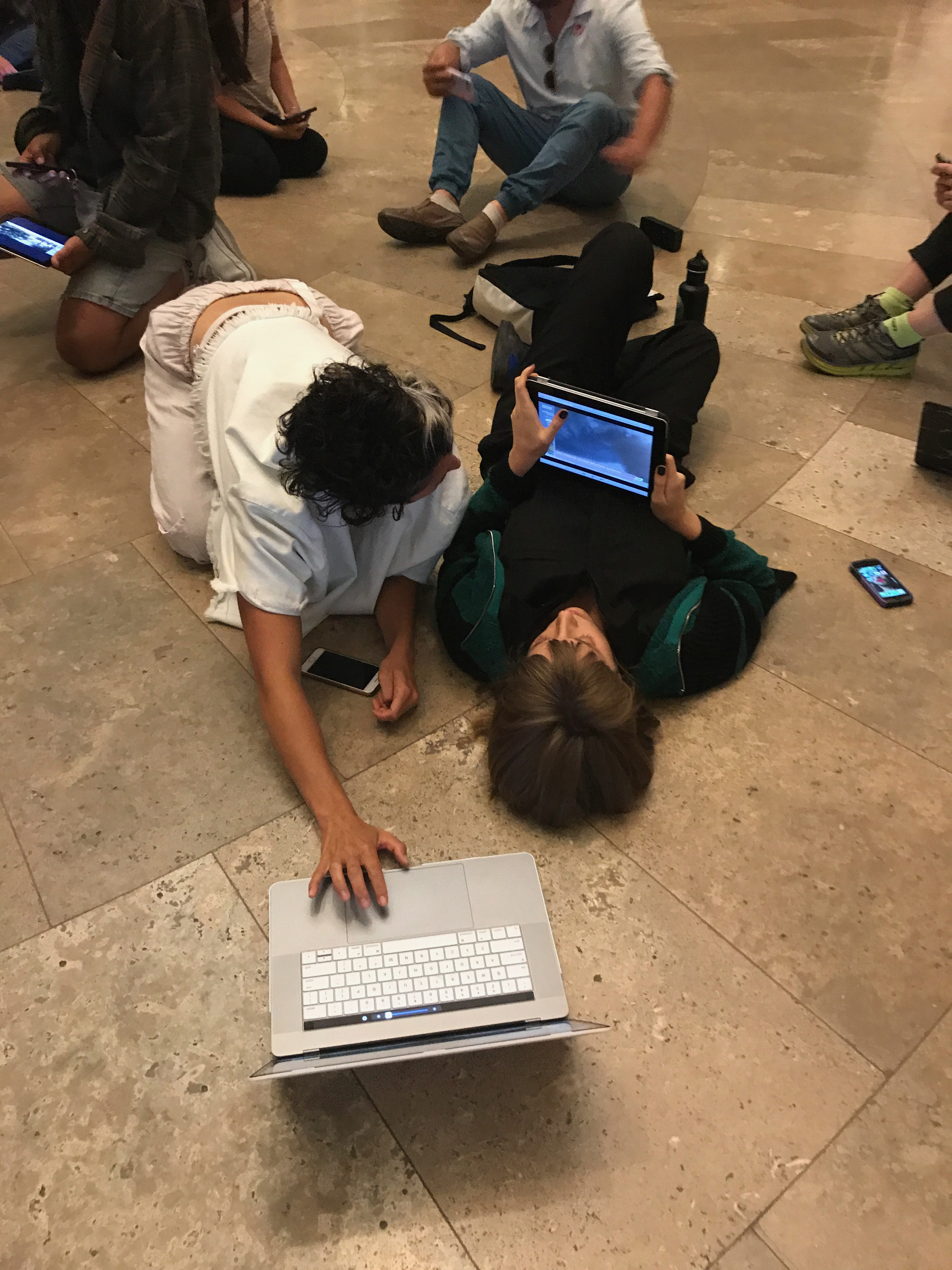 Artist collective Institute for New Feeling (Nina Sarnelle, Agnes Bolt, Scott Andrew) presents Other Sky, a site-specific project altering the visitor experience of the Getty Museum. Like something between a public and private film screening, an ominous narrative around an impending major weather event will develop throughout the night, with information, images, and sounds circulating among individual technology devices belonging to both performers and audience. Founded by Scott Andrew, Agnes Bolt, and Nina Sarnelle, the Institute for New Feeling describes their collaboration as "a research clinic committed to the development of new ways of feeling, and ways of feeling new." Together they develop multidisciplinary work that often takes the form of treatments, therapies, retreats, research studies, and wellness products. The Institute for New Feeling has recently exhibited at Ballroom Marfa, Marfa, TX; Akademie Schloss Solitude, Stuttgart; Recess, NY; Southern Exposure, San Francisco; Vox Populi, Philadelphia; among others, and has been featured in Art in America, Huffington Post, and frieze magazine.

Photos: Agnes Bolt.